Value In A Small Package
The ECO H2O ZM-40 unit has been designed for production of an activated solution – Neutral Anolyte.
Easy operating procedures give the added benefit of rapid delivery of the safe and fast acting disinfectant.
The ECO H2O ZM-40 units have been developed to produce Neutral Anolyte on the spot and on demand when disinfecting, sterilization and water purification are required.
The weight and dimensions of the unit are kept low and small to ease handling, maintenance and transportation.
The strength of Anolyte in terms of active chlorine concentration can be adjusted.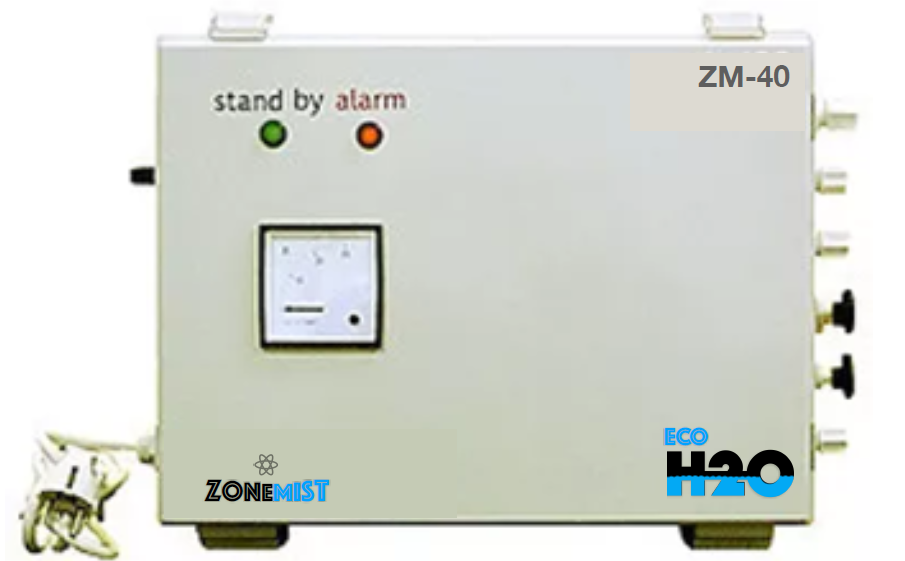 Key Features And General Specifications
A self-cleaning cycle has been programmed into the machine, which ensures easy maintenance and maximum productivity.
The unique design of the diaphragmatic cell ensures that electrolyte used in the production of activated solutions has maximum contact with the electrodes. This ensures the most effective use of energy with minimum salt consumption.
There is minimal hydraulic resistance against liquids flowing through the cell chambers, ensuring an optimum flow rate is achieved.
The electrodes are specifically designed to endure high electrochemical loading, as are the membranes which separate the solutions.
The enclosure is made of non-corrosive materials. Tubes and connectors are of EPDN/PVDF plastics, and are highly resistant against aggressive solutions.
A simple on/off switch with a power indicator starts and stops the unit manually.